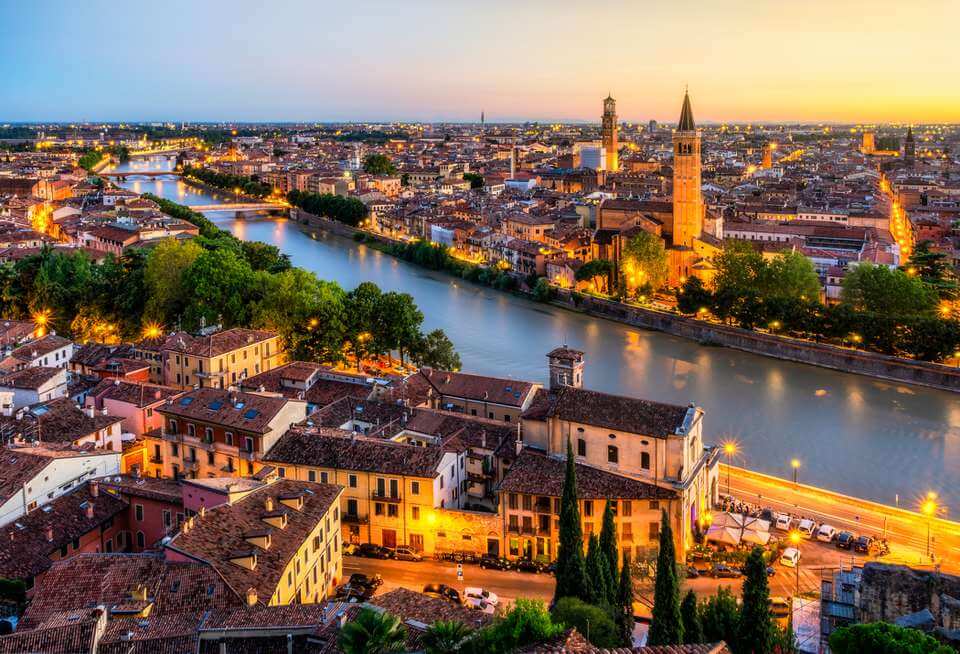 Putting together the best itinerary for Milan and northern Italy seems pretty simple but it is not.  Northern Italy is an interesting place with so much history where do you go?  Where do you stay?  Do you travel from town to town?  Do you use the train system?  What is the best way to take in all of northern Italy with the minimum of hassle and expense? I spent some time researching all of the options and came up with what I think is the best itinerary for Milan and northern Italy.
Hotel Used Like a Cruise Ship
What made this vacation so simple is the fact that we checked into our hotel, unpacked and used our hotel much like a cruise ship.  Everyday we ate breakfast and walked to the train station eager to visit our next destination.  Once we had visited our destination and enjoyed a full day we got back on the train and headed home for the night.  It was fantastic.
To begin we flew directly into Milan.  Milan (MXP) is a large airport that is easy to fly into and out of.  We gathered our luggage and boarded the Malpensa Express.  This little train takes you right into the heart of Milan.  We exited at Milan Centrale which is the central train station for Milan.  We stayed at the Excelsior Hotel Gallia.  It is a stunning hotel and is literally right across the street from the station.  I highly recommend staying at this hotel.  Make sure you get the breakfast included option.  It is a great way to fuel up in the morning and it is one of the best breakfast spreads I have seen in Italy.  You will thank me:).
Day 1 – Milan
After our hotel check in we showered then enjoyed a light lunch at the hotel. The group was ready to go and excited to begin our first tour. We chose a "get acquainted" tour that lasted three hours. The tour was a small group walking tour of Milan's city center which included the Sforza castle, the Galleria and the Cathedral of Milan which is also known as the Duomo. I highly recommend this tour.  We had a great time with our guide.  From our guide we also picked up some great ideas for restaurants and cafes frequented by the locals.
Day 2 – Bergamo
The next day we woke up enjoyed a great breakfast and walked right across the street to the train station.  We caught a morning train to Bergamo. The train ride was less than an hour.  Bergamo is a beautiful little city with tons of history.  There are two parts to Bergamo; the lower city and the upper city.  You want to spend most of your time exploring the upper city or La Citta Alta.  We found a great tour that showed us all of the interesting places of Bergamo and then our guide pointed us in the direction of a great little restaurant that was not full of tourist just like us:)
Day 3 – Pavia
We again woke up and enjoyed a great breakfast at the Excelsior Gallia and walked across the street to the train station and boarded a train for Pavia. It is a 30 minute trip at most.  OMG!  Pavia was such a surprise!  Pavia, is a wonderful little college town (founded in the 11th century) that has so much wonderful history.  We walked into one church and to our surprise St. Augustine was buried there!  We took a private tour and our guide was wonderful.  If anyone asks you why you went to Pavia you will have plenty to tell them.  Pavia also has wonderful food so enjoy!
Day 4 – Verona
We performed our usual morning breakfast routine and then off to the train station. Verona was a city we were all exited to visit as all of us had heard nothing but great things about how beautiful and wonderful  Verona was.  I can tell you this…Verona lived up to its billing!  What a fantastic place. There is so much history to be enjoyed and so much beauty to take in you may want to come back during this trip and take it all in again.  We chose a three hour private walking tour which was amazing.  As a helpful hint I would skip anything that has to do with Romeo and Juliet as it is all a bit made up and is heavily trafficked.  All in all Verona is heaven on Earth.
Day 5 – Bologna
After our breakfast we gathered our things and headed over to the train station.  Bologna is about 1:15 minutes away by speed train.  If you have not been to Bologna I highly recommend a visit.  Since Bologna is also one of the food capitals of the world (think bolognese sauce) you may want to visit twice or fit two tours in on the same day.  One a historic tour and the other a food tour. I recommend both.  The first tour covers the city center and the must see historic sites of Bologna. The second and for some the more important tour is a food tour that allows you to taste a variety of treats that are local to Bologna.
Day 6 – Turin
Leaving from Milan Central going to Turin Porta Susa is about a 2 hour train trip and it is worth every bit of time.  Turin is the city of Italian Kings.  There are many covered walkways to peruse and sites to see.  Turin is the home of excellent chocolate and fantastic coffee.  You will definitely not be disappointed in this beautiful city.  We tend to prefer private tours because we like having the guide all to ourselves and we chose this tour because it had so much variety.  I have to tell you time flew by as we were taking all of Turin's beauty in.  It is an amazing city.  Turin is a city you will not want to miss…it was definitely a highlight.
Day 7 – Como
What trip to Milan is complete without a quick little trip to Como.  Going to Como by train takes about 35 minutes.  Como is an absolutely beautiful spot on this Earth that must be enjoyed at least once in your life.  You definitely want to take a tour that is going to give you both a great view and the highlights of this beautiful city.  I suggest you take this tour because you can really get a feel for the town very quickly with a great guide.  You might also want take a boat ride through the lake so you can see why the world is in love with Lake Como.
Day 8 – Florence or Venice or just grab a train to somewhere you have already been and really take your time to see the sights.
So very few blogs are going to tell you to play it by ear…but I am telling you that you might want to play it by ear.  After your schedule you may want to chill out, sleep late and discover Milan on your own.  You may want to even sign up for a trip to the shopping outlets of Milan which I understand are fabulous.  Maybe you would like to have a personal shopper take you through the high fashion district so you can buy something special.
If you are a road warrior and want to keep the magic happening then you could either revisit a city you have already enjoyed and see it in a different way.  Take a look and find a tour in the area you want to visit and make it happen.  Generally, tours require little notice to enroll.
If you are looking for a new experience I would suggest either Florence or Venice.  Each city is about 2:30 hours away via speed train but they each have so much to offer and are so different from one another.  Maybe you want to do both.  It is up to you.  Both are easily accessible by speed train. Remember, if you visit Venice use the Santa Lucia train station.  If you are visiting Florence use the Santa Maria Novella train station.
If you would like to discuss a more personalized itinerary just send me a note and we can talk about yur next Italian vacation.  You can reach me a [email protected]
Why Choose Go Tour?